RK3399 CPU and GPU in terms of both called monster. CPU core architecture using big.LITTLE size, dual-core Cortex-A72 big four Cortex-A53 + small nuclear structure, integer, floating point and memory were significantly optimize overall performance, power consumption and core area of the three areas revolutionary upgrade. GPU quad-core next-generation high-end graphics processor ARM Mali-T860, integrated more bandwidth compression techniques: such as smart superimposed, ASTC, pixels are stored locally, but also in support for more graphics and computing interfaces, enhance the overall performance over the previous generation 45%.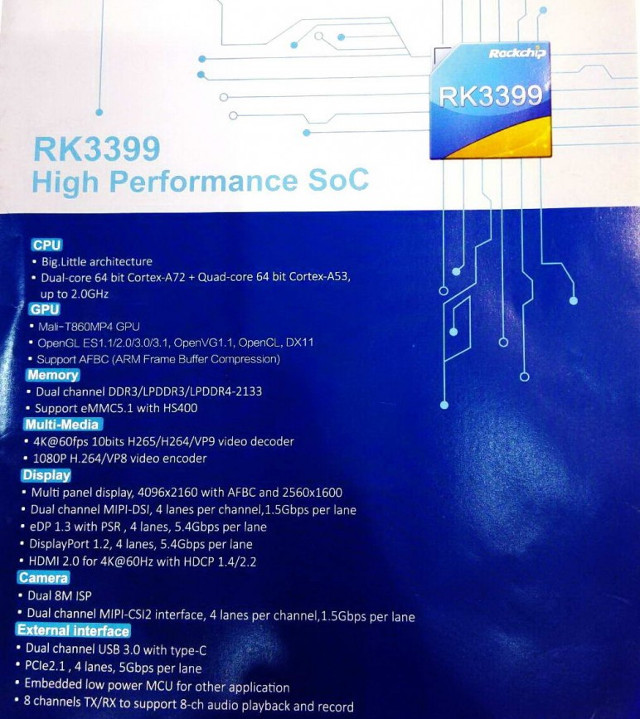 Ultra-high gauge CPU and GPU, can spike the market mainstream Hass Hi3798, Hass 3798C V200, Chi H8, Jing Chen S905, MediaTek MT8693, and other products. The performance gap is not too big and RK3399 crystal morning S912, current production time is still to be determined, so the whole box chip environment, RK3399 currently no opponent.
In RK3399 CPU, GPU's high performance is not limited to regulation, which for five technical advantages of the game box, game box is capable of allowing rival Sony PS, Microsoft XBOX series of high-performance game console in terms of performance.
1, integrated dual USB3.0 Type-C interface, support for Display Port Type-C's audio and video output.
2, HDMI2.0 interfaces, H.264 / H.265 / VP9 4K 10bit @ 60fps video decoding.
3, built-in PCI-e interface, support for Wi-Fi and high-speed storage expansion based on the PCI-e.
4, dual camera image acquisition and processing, support gesture recognition.
5, compatible with Android, Linux and other operating systems.
Five-edge technology in video capability itself, the previous generation flagship on RK3288 already have HDMI2.0 interfaces, H.264 / H.265 / VP9 4K 10bit @ 60fps video decoding capabilities, RK3399 homeopathic succession and added 10 bit color depth HD decoding and image Enhancement technology to enhance the image, although these capabilities are similar to solve the chip program billed as "top-level" capability, but RK3399 is concerned, this is not the focus. Aspect is great, Type-C interface, built-PCI-e interface, dual camera support gesture recognition three characteristics, this game box experience of the product would be disruptive.
RK3399 integrated dual USB3.0 Type-C, the maximum transfer rate of up to 10Gbps per second, supports duplex bi-directional power insertion. This device is connected to the TV with Type-C interface, the stability and speed doubled. The program supports PCI-e interface, then let the higher-speed Wi-Fi, and a larger capacity storage device that uses higher speed on the game box to become a reality. Finally, using the dual cameras and image processing, support gesture recognition technology, the application will be extended to the product with the VR, apparently, VR + RK3399 game box will have a great future application development, which is no suspense.
In this file powerful chip support, gameplay and TV penetration will greatly increase, video game content platform will benefit. The industry's leading intelligent platform for TV content as shellfish market, join the mainstream gaming platforms, Tencent Games, ZTE Ninetowns Sword network, grape games, small games Y, daily Q, there is music game, TIMEBOX together to build smart TV, etc. Exclusive gaming platforms, providing a wealth of video game content for future smart home.
As the industry's point of view evaluation of the RK3399, and its impact on the industrial OTT box will be unprecedented, he was not just upgrade parameters gradual, more importantly, he or will open up a huge video game console market. This product of OTT box horizontal, vertical, industrial expansion, were of great significance to promote.
Recommended Models, No Regret to Buy:

MECOOL KIII PRO Hybrid DVB TV Box, 2018 Best Featured Model

Mecool M8S PRO L, 2018 Best-selling Model in EU

MECOOL M8S Pro+ TV Box, (Best Seller of Quad-core TV Box)